Now is not the time for escalation of violence against Black people and Black communities by deploying military force of any kind. Even our own military commanders recognized that laws "prohibiting direct military involvement in law enforcement [are] in keeping with long-standing U.S. law and policy limiting the military's role in domestic affairs". We must oppose resolutely any use of the military to police our communities.
Not listening, decrying civil protests like Colin Kaepernick's, refusing to acknowledge institutional racism that infects our police departments and other governmental institutions, failing of privileged white people to own up to our own individual racism, and tolerance of policies that make police immune from sanction … these are the things that have provoked the protests we are seeing. We cannot allow further escalation of institutional violence through a militarized response to these protests where weapons are being leveled at unarmed participants and members of the press carrying out their responsibility to bear witness without hesitation or official response.
Inaction supports the system. Only intentional action will tear it down.
We must focus now on redress and reparation of the longstanding, centuries-old systemic inequities and racism laid bare this spring by the pandemic and its accompanying economic and social devastation.
We must reorder our budget priorities at the state and local level to invest in education, health care and social services that prevent injustice rather than continue to invest disproportionately in punitive responses to the economic and social consequences of that injustice.
We must reform our law enforcement agencies and end over-policing and police violence.
We must start by moving quickly to change state laws that extend protection to law enforcement officers who do harm and limit the ability of local governments to respond to their communities.
We cannot continue to have a state law that allows individual officers to engage in serious misconduct that results in bodily harm or death without professional or personal consequence.
We cannot continue to have laws that hide from the public the misconduct of people charged with keeping us safe.
We must take action to empower and fund a specialized, statewide team of investigators and prosecutors, independent from any state or local law enforcement agency, that can investigate and prosecute law enforcement personnel who engage in or allow criminal acts that result in death or serious injury.
We must erase state limits on local government authority to establish civilian review boards that have real power to oversee law enforcement agencies and personnel in their communities.
The ACLU-VA's proposals for police reform (Scroll down to the bottom for a PDF version)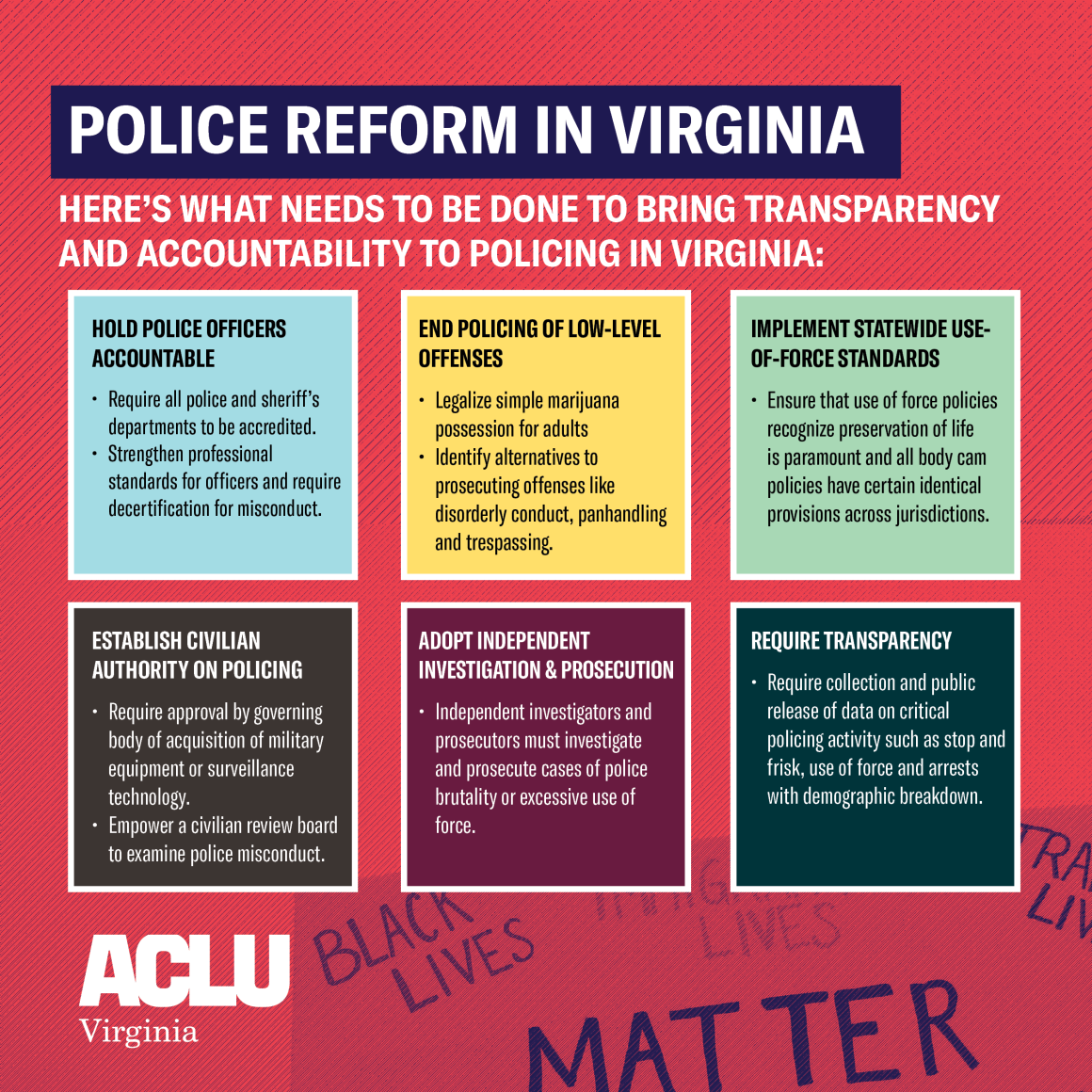 Most importantly, though, we must start with ourselves. Each white person among us must have the courage to recognize racism reflected in our own beliefs and actions.  We must not allow to go unchallenged any example of the systemic white supremacy that is everywhere around us.
White supremacy shows up in every aspect of our lives, from the overt racism of criminal law enforcement that led to the deaths most recently of George Floyd and Breonna Taylor and the sanctioned murder of Ahmaud Arbery to the way the media covers actions by white gun rights activists compared to the way it covers Black justice activists to subtle language cues. It is too often unrecognized; more often, unchallenged. For example, although it's a small thing in the reality of today in today's LA Times crossword puzzle that ran in papers across the country, this clue appeared: "Harmless, as a lie." The answer, "white." The not-so-subtle meaning: White = harmless. The unstated negative: Black = harmful.
What is clear from this seemingly insignificant example is the depth of the roots of white supremacy in our lives and culture and the strength and perseverance it will take to eradicate it  from our society, institutions and culture. We cannot wait for others to act. Justice will not come to us or to society unless we take the first step. It is on each of us with white privilege to act in our own lives and collectively to build the just society that to date is a dream unfulfilled for Black people in America. Inaction supports the system. Only intentional action will tear it down.