Join us on Jan. 15, 2019 for a special screening and panel discussion of On the Basis of Sex, a movie about Supreme Court Justice Ruth Bader Ginsburg. The event is FREE and open to the public!
Details:
When: Tuesday, January 15, 6 p.m.
Where: Bowtie Cinemas Movieland at Boulevard Square
"The film tells an inspiring and spirited true story that follows young lawyer Ruth Bader Ginsburg as she teams with her husband Marty to bring a groundbreaking case before the U.S. Court of Appeals and overturn a century of gender discrimination." — Focus Features
Panelists: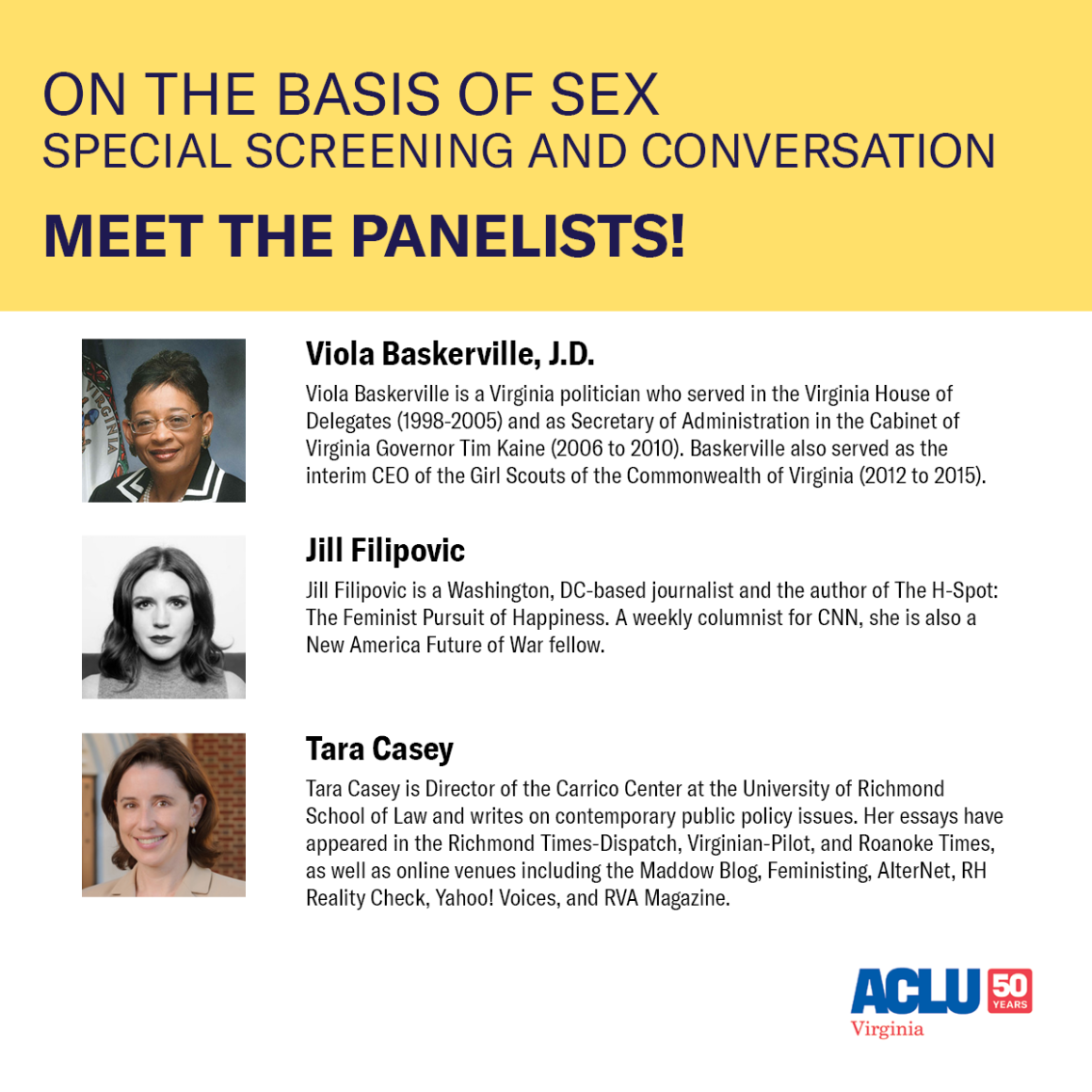 Viola Baskerville, J.D.
Viola Baskerville is a Virginia politician who served in the Virginia House of Delegates (1998-2005) and as Secretary of Administration in the Cabinet of Virginia Governor Tim Kaine (2006 to 2010). Baskerville also served as the interim CEO of the Girl Scouts of the Commonwealth of Virginia (2012 to 2015).
Jill Filipovic
Jill Filipovic is a Washington, DC-based journalist and the author of The H-Spot: The Feminist Pursuit of Happiness. A weekly columnist for CNN, she is also a New America Future of War fellow.
Tara Casey
Tara Casey is Director of the Carrico Center at the University of Richmond School of Law and writes on contemporary public policy issues. Her essays have appeared in the Richmond Times-Dispatch, Virginian-Pilot, and Roanoke Times, as well as online venues including the Maddow Blog, Feministing, AlterNet, RH Reality Check, Yahoo! Voices, and RVA Magazine.