The ACLU of Virginia and the Richmond Peace Education Center are energized by the success of "Reclaiming Our Democracy" and pleased that participants were actively engaged in the discussion. We hoped that "Reclaiming Our Democracy" would inform and empower people to speak out and work toward a free, more peaceful and equitable America. The one-day conference held in September 2016, explored how the events of Sept. 11, 2001 and policy decisions in its aftermath have altered the definition of liberty and changed the direction of our society.
As part of the program, we asked participants to engage with us by sharing action steps they would take for themselves and in their communities. We provide the resources from the conference below so that you can continue the conversation, stay engaged, and take action.

Action Steps (PDFs)
Conference Presentations (PDFs)
Videos from the Conference
The Militarization of Police in Our Communities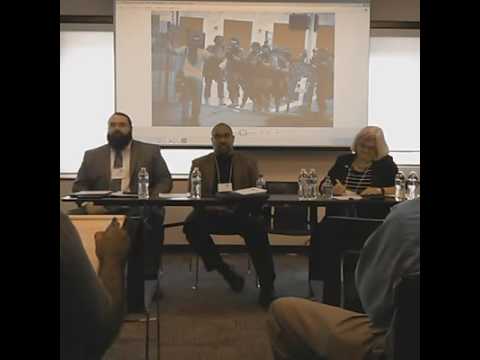 This embed will serve content from youtube-nocookie.com
The Growth of Government Surveillance and the Threat to Privacy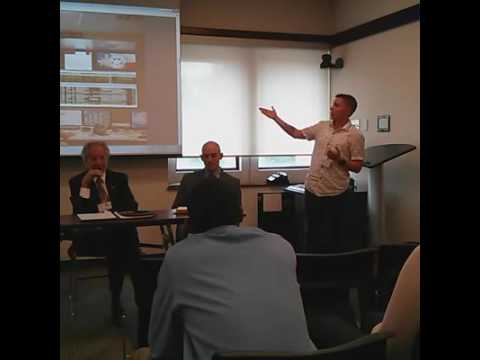 This embed will serve content from youtube-nocookie.com
---
Workshop Descriptions
Militarization of Police in Our Communities
With the use of post-9/11 federal grants, local and state police have outfitted their departments with surplus military equipment, including mine-resistant vehicles, and other gear and firepower that is far beyond what is necessary for their jobs to protect our community.  Sending heavily armed teams of officers to perform "normal" police work can dangerously and needlessly escalate situations.  The militarization of police has corresponded with a changing attitude whereby police conceive themselves "at war" with the very communities they are charged with keeping safe.  Virginia is no exception to this trend with 100 localities in the Commonwealth taking advantage of these military surplus programs all with little to no oversight or public discussion.  In this workshop, we'll discuss the cause and rise of the militarization of police, as well as its impact on community policing and its effect on our localities, particularly within communities of color.
Government Surveillance and the Threat to Our Privacy
Following the terrorist attacks on 9/11, the government has increasingly used technological advancements to invade our privacy and conduct suspicionless spying on ordinary Americans.  The government has at its disposal a host of technologies – warrantless wiretapping, use of drones, stingrays that track cell phones, Automated License Plate Readers (ALPRs), to name a few – that allow it to gather metadata and find our personal information about individuals. All this surveillance ultimately stifles free speech, inhibits legitimate behaviors and choices, and results in biased-targeting that harms innocent people.  In this workshop we'll discuss the various technologies and threats to our privacy, its impact on our communities, and ways that you can help fight back to protect our privacy.
Rethinking the Global War on Terror and Exploring Alternatives
In the fifteen years since 9/11 our country has prosecuted a global "war on terror" with no deadlines and no exits, remaining in a perpetual state of war since 2001. Wars have resulted in death and injury for thousands of GI's, including the death of more than 200 Virginians, and widespread death and displacement in Iraq, Afghanistan, Yemen, and Pakistan. This workshop will look at our country's foreign policies of the last 15 years and explore avenues to rekindle the use of diplomacy, soft power, and other foreign policy alternatives to endless war.
The Color of Terror and the Psychology of Hate
Since 9/11/2001 the U.S. has waged a "war on terror" that has assumed that most terrorists who threaten our country are Arab Muslims.  Under this assumption we have waged war in the Middle East and demonized Muslims all over the world, including many born and raised in this country.  Meanwhile, white hate groups here in the USA have increased. This workshop will address the racial component of the "war on terror" and the psychology of hate that has been allowed to fester in some segments of America.
---
About the Speakers
Adam Bates is Policy Analyst with the Cato Institute's Project on Criminal Justice.  His research interests include constitutional law, the War on Drugs, the War on Terror, police militarization, and overcriminalization. Adam received a B.A. in Political Science from the University of Miami, where he also walked onto the Miami Hurricanes football team, and both an M.A. in Middle Eastern Studies and a J.D. from the University of Michigan. He is a member of the Oklahoma bar.
Lecia Brooks is Outreach Director for the Southern Poverty Law Center and serves as director of the Civil Rights Memorial Center in Montgomery, Ala..  Lecia joined the SPLC staff in 2004 as director of Mix It Up at Lunch Day, a Teaching Tolerance program designed to help break down racial, cultural and social barriers in schools. Previously, Lecia worked for 12 years in a number of capacities for the National Conference for Community and Justice in its Los Angeles office. She is a graduate of Loyola Marymount University.
Kade Crockford is the Director of Technology for Liberty Program at ACLU of Massachusetts. Kade works to protect and expand core First and Fourth Amendment rights and civil liberties in the digital 21st century, focusing on how systems of surveillance and control impact not just society in general but their primary targets - people of color, Muslims, immigrants and dissidents. Toward that end, Kade researches, strategizes, writes, lobbies, and educates the public on issues ranging from the wars on drugs and terror to warrentless electronic surveillance.
Kate Gould is the Legislative Representative for Middle East Policy at Friends Committee on National Legislation, a Quaker lobby fielding the largest team of registered peace lobbyists in Washington, D.C.  Kate also serves on the board of Churches for Middle East Peace, and is a political partner with Truman National Security Project. Before coming to FCNL, Kate taught Palestinian school teachers in the West Bank city of Hebron and coordinated a joint Israeli-Palestinian radio program at a think tank in Jerusalem.
Talat Hamdani is a Pakistan-born American who became a commentator after her son was killed during the attacks on September 11, 2001.  Her son, Mohammad Salman Hamdani was a New York Police Department Cadet.  Talat has described how her son - a paramedic who had spontaneously made his way to help at the World Trade Center, only to die when the buildings collapsed - was investigated following the attacks. In 2010 Talat's support of the building of the "ground zero mosque" was widely reported.  She told the San Diego Tribune that she felt Muslims were being unfairly "targeted"for terrorists attacks, when attacks killed Muslims like her son.
Dr. Wornie Reed is Professor of Sociology and Africana Studies and Director of the Race and Social Policy Research Center, Virginia Tech. Dr. Reed teaches courses in health and medical care, criminal justice, and Africana studies. Dr. Reed is a graduate of Alabama State University and earned his masters and doctorate degrees in Sociology at Boston University. Among the books Dr. Reed has written are African Americans: Essential Perspectives (2003) and Blacks in Tennessee (2008).
Dr. Lisa Schirch is North American Research Director for the Toda Institute for Global Peace and Policy Research, Senior Policy Advisor with the Alliance for Peacebuilding, and Research Professor at the Center for Justice and Peacebuilding at Eastern Mennonite University. In 2015, Dr. Schirch finished a three year project coordinating a global network to write a Handbook on Human Security and a set of case studies on Local Ownership in Security. A former Fullbright Fellow in East and West Africa, Dr. Schirch has conducted conflict assessments and participated in peacebuilding planning alongside local colleagues in over 20 countries including Afghanistan, Pakistan, Iraq, and Indonesia.
Hugh Handeyside is Staff Attorney with ACLU's National Security Project.  Hugh works on issues related to government watchlisting, racial and religious discrimination, due process, and border-related practices. He is a graduate of Stanford University, the London School of Economics, and the University of Michigan Law School. He previously worked on complex litigation matters at Perkins Coie LLP and Corr Cronin Michelson Baumgardner & Preece LLP. He clerked for the Hon. John C. Coughenour of the U.S. District Court for the Western District of Washington. Prior to law school, Hugh worked for two years at the CIA, where he was an analyst in the Directorate of Intelligence and the Counterterrorism Center.
Mona Siddiqui is a Richmond resident and scholar on American Muslim civil rights and public policy. She is also a Virginia attorney, currently working as Assistant Attorney General at the Virginia Office of the Attorney General. She has her Bachelor's degree in Foreign Affairs and Middle Eastern Studies from the University of Virginia, and a J.D. from University of Maryland School of Law.  She is currently pursuing her Ph.D. in Public Policy and Administration at Virginia Commonwealth University. The title of her dissertation is "The Role of 21st Century Security Politics and Constitutional Values in the Social Integration of American Muslim Youth in Educational Institutions." Mona is the mother of four second generation American Muslims.
Larry Syverson is a Richmond resident whose three sons have served multiple deployments in Iraq and Afghanistan.  Larry relates how those tours of duty caused disruptions, stresses, and hardships on family members.  He has been a steadfast critic of the two wars since they began.
Phillip Thompson is President of the Loudoun County NAACP branch, and the Virginia State Conference of the NAACP's Criminal Justice Chair and Area 15 (Northern Virginia) Coordinator.  He is currently in private practice, focusing primarily on Native American, Civil Rights and Employment Law.  Prior to entering private practice, Phillip served as an Officer and Judge Advocate in the U.S. Marine Corps; Associate Counsel in the U.S. Navy Office of General Counsel; and as an Attorney-Advisor for the U.S. Department of the Interior, Office of the Solicitor, Division of Indian Affairs. Phillip is a graduate of the Washington University School of Law in St. Louis (1987) and Southern Illinois University at Carbondale (1984).
Colonel Lawrence Wilkerson is Distinguished Adjunct Professor of Government and Public Policy at William and Mary. Col. Wilkerson retired from active service in 1997 and began work as an advisor to General Colin Powell.  He continued to serve General Powell as special assistant and then as Chief of Staff to Secretary of State Powell. Col. Wilkerson also served as Associate Director of the State Department's Policy and Planning Staff under Ambassador Richard N. Haass and as the staff member responsible for East Asia and the Pacific, political-military and legislative affairs. He is currently working on a book about the George H. W. Bush administration.
---
Sponsors and Supporters