Who is your Commonwealth's attorney (CA)? Do you know how your CA has used their authority in your community? Commonwealth's attorneys are the most powerful law enforcement officials in their jurisdiction's criminal justice system. These locally elected prosecutors can initiate investigations, decide what charges to bring, make immunity and plea bargain determinations, as well as making other critical choices that impact the criminal justice system, on both an individual and aggregate level.
These decisions matter. Yet, there is often a lack of transparency about them. Consistent with national efforts to increase prosecutorial transparency, ACLU of Virginia Investigator Mateo Gasparotto sent several Virginia Freedom of Information Act (VFOIA) requests to CA offices around the state. His analysis of data obtained from Arlington County highlights how CAs' decision-making affects criminal justice outcomes.
1. Commonwealth's attorneys use their discretion to determine prosecutorial enforcement policies and priorities.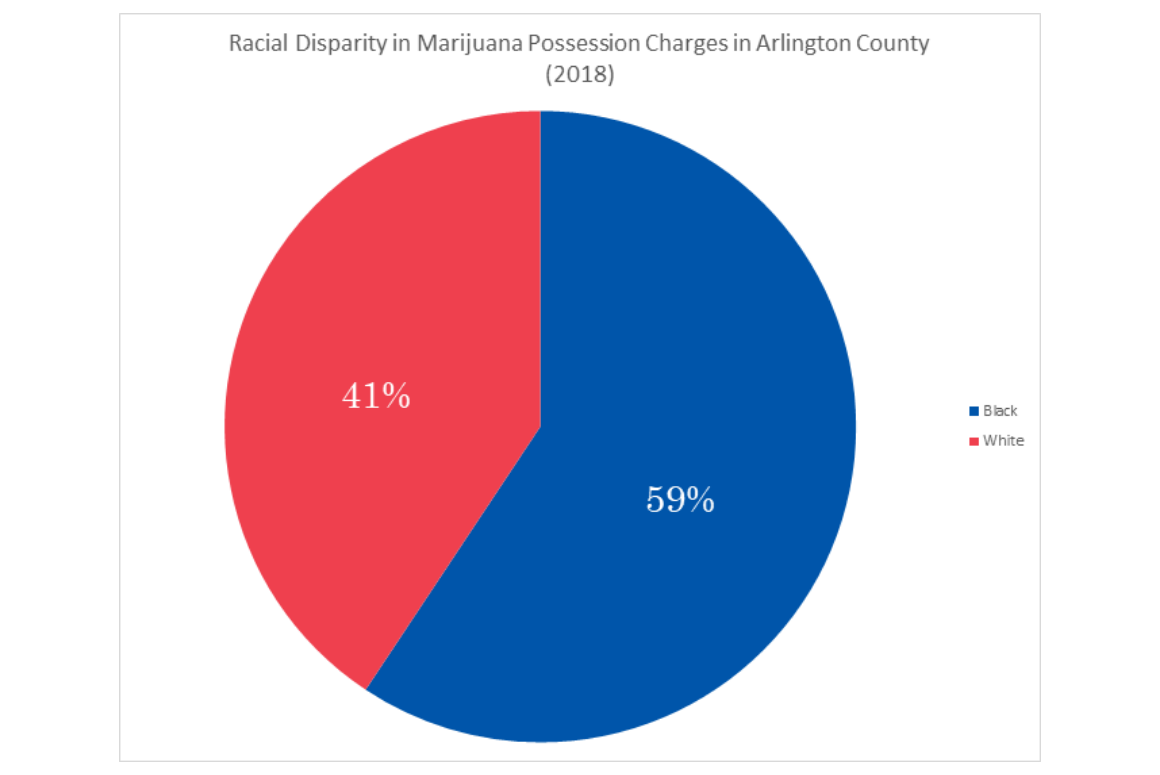 The number one charge last year in Arlington was for first-time marijuana possession. CAs could use their discretion to not prosecute marijuana possession offenses, as the CAs in Norfolk and Portsmouth have opted to do, even if the judge may ultimately disagree in some cases. For drug offenses generally, prosecutors can use their discretion to divert individuals to rehabilitative services—an approach that addresses the underlying cause of criminal activity, recognizes that treatment is a more effective and cost-efficient solution to reduce incarceration and recidivism, and concentrates enforcement resources on crimes that truly threaten the public safety.
ASK YOUR CA CANDIDATES: If you are elected, what are your enforcement priorities?
2. Commonwealth's attorneys make charge determinations that impact pre-trial detention and an individual's criminal history record.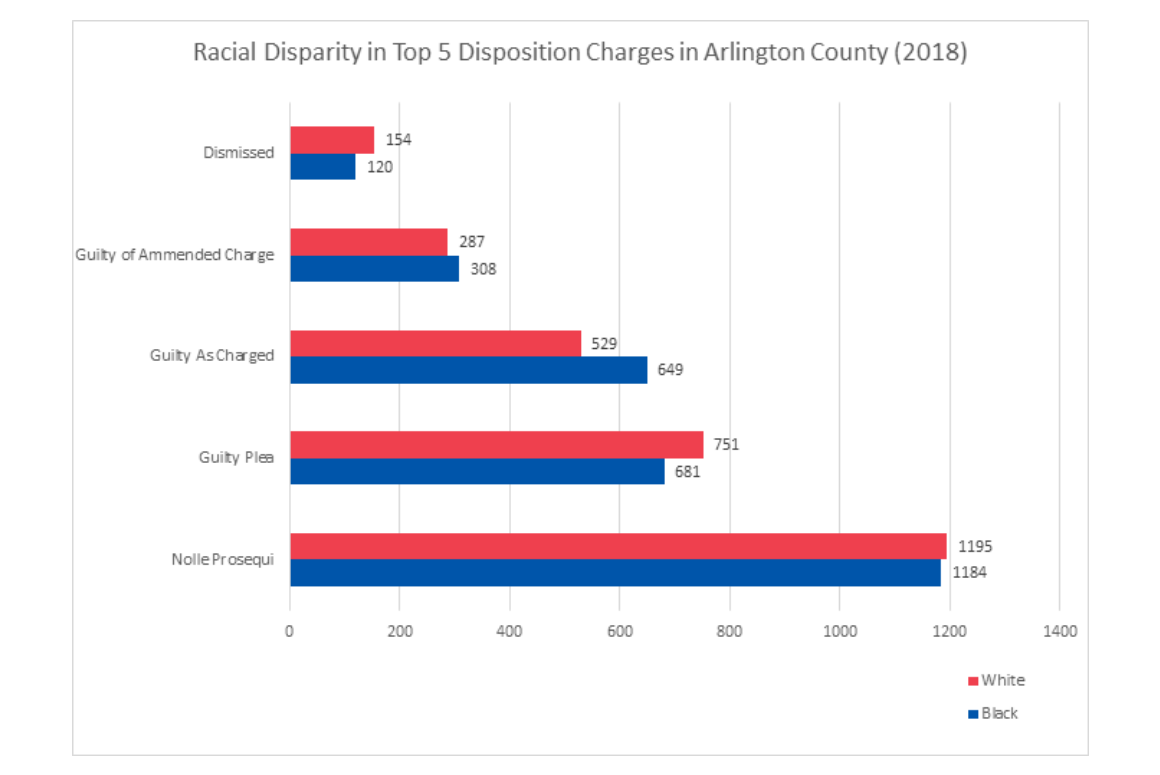 While in jail, people risk losing their jobs, healthcare, housing, or custody of their children. One study has shown that just three days in jail can increase the likelihood of being arrested on new charges. Prosecutors can lead pre-trial reform to address the unfair and disproportionate impact of this system on women, racial minorities, and people who are unable to pay.
Long-term, adverse consequences impact even those who are never tried or convicted. In Arlington, individuals implicated in over 2,300 charges dropped by the prosecutor (nolle prosequi) must still go through an onerous expungement process to have their charge and proceedings cleared from the public record. Although the charges are dismissed, their impact remains.
ASK YOUR CA CANDIDATES: If you are elected, what are your charging and pretrial detention policies?
3. Commonwealth's attorneys' decisions can magnify or reduce disparities in the criminal justice system, including racial inequalities.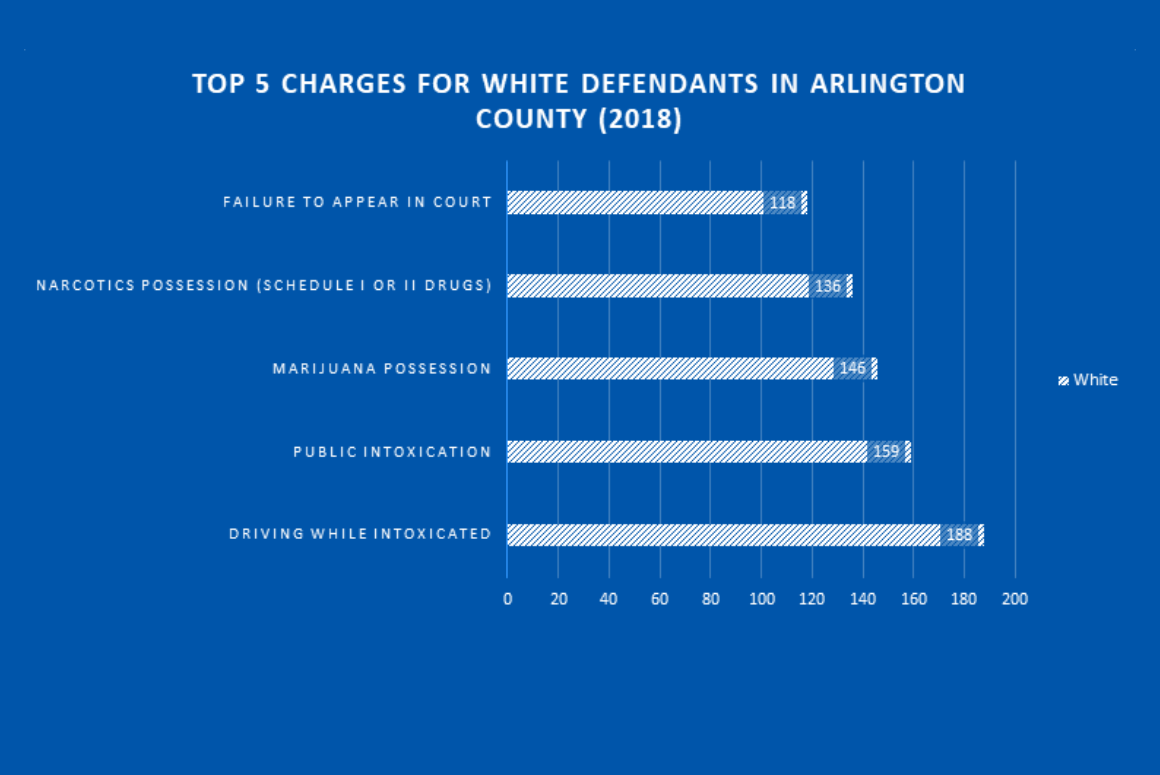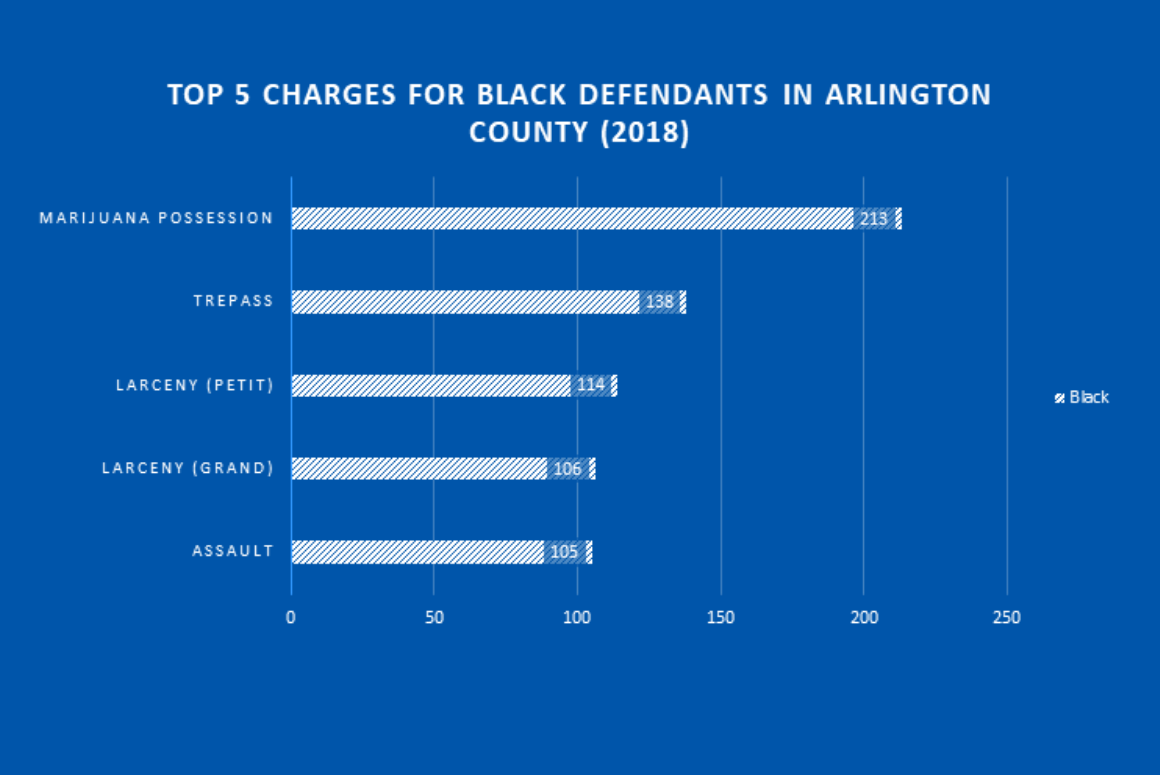 As Figure 1 depicts, there's stark racial disparity in how prosecutors charge. Per 1,000 individuals in the population, the rate of marijuana prosecution is more than six times higher for black* defendants than white defendants. The rate of enforcement for driving under the influence (DUI) for black defendants is 2.5 times higher than that for white defendants. The differences become more evident in Figures 3 and 4, which depict the top five charges for white (DUI and drunk in public) and black (narcotics, trespassing after being forbidden) defendants, respectively.
CAs can address these disparities through their stance on key civil rights issues within their prosecutorial discretion, such as bail reform, marijuana nonenforcement, police accountability, and much more.
ASK YOUR CA CANDIDATES: What actions are you taking to reduce disparities in our criminal justice system?
Virginians have an opportunity to take action and address these disparities—by asking CAs more questions, demanding better policies, insisting on transparent data collection practices, and holding CAs accountable at the ballot box. The ACLU of Virginia encourages a robust review of each CA candidate's record on key criminal justice issues and promotes opportunities for information sharing and public debate. We invite you to join us at the upcoming CA debate in Fairfax County on Monday, June 3rd at 7pm at the First Baptist Church of Vienna.
The ACLU of Virginia is committed to increasing prosecutorial transparency and enabling every Virginian to exercise their rights as voters. You can act to ensure the Commonwealth's attorney in your community is seeking justice, not just convictions.
*The term "black" is used consistent with the terminology in the Arlington data set.